Would you like to get free mentors for life?

Do you want to half the time it takes to master your craft?

Then find a mentor.

When you find the right mentor, you'll learn faster and achieve your independence from your 9 to 5 sooner.

The right mentor will help you shortcut the process. You'll still have to put the work in, but with an experience hand guiding you, you'll avoid wasting your efforts on unproductive tasks.

That direction is the difference between becoming a master and remaining a frustrated amateur.

If you're ready to find your Yoda here's what you need to know…
How I Found My 3 Mentors
I've had 3 mentors in my life. Here's how I found them:
Mentor 1: In 2012 I paid $497 a month for Marc. He'd sold his company for $27 million at 27 years old. I met Marc once a month for 6 months and he made a big difference in my life (he gave me the Free The Wage Slave domain back in 2012). I worked with him for 6 months but we still speak a few times a year now (for free).
Mentor 2: Rajesh hired me on Upwork and I was a consultant to his company for 6 months. I made sure I got him great results and it paid off – he invited me to Dubai for a 10 day retreat to work together (unpaid). During that retreat Rajesh offered me a partnership to run his company. I moved to Dubai to apprentice under him. After a highly paid 9 to 5 followed by 6 months of lucrative consulting, accepting $1,000 a month for 70+ hours a week stung. Yet I can honestly say it transformed me and gave me skills I rely on now.
Mentor 3: Roxana hired me as a Marketing Strategy Consultant and we quickly got the first project done. The second project was worth over $1,500 but instead I offered my services for free if she'd mentor me. She agreed and is mentoring me currently.
So far I'm 3/3 with every mentor I wanted. Here's how I did that (and how you can use the same strategies to secure your mentor).
How To Secure The Mentor You Want
Make sure your target mentor has already mastered the field you want to succeed in.
The best way to work with a mentor is physically, day-in-day-out. You can do this through an apprenticeships.
You can get a mentorship by making yourself useful to the mentor. Save them time, hassle and/or money.
You'll probably get paid less than you could get elsewhere. Accept that as your tuition fee. Think long term. The skills you'll learn will help you earn more over the course of your career.
You'll probably have to follow everything they say without your ego or pride getting in the way. If you think you can't do that find another mentor you're comfortable with.
Focus on what you can give to the mentor, not how you could get them to be your mentor (intention is everything).
How To Connect With Potential Mentors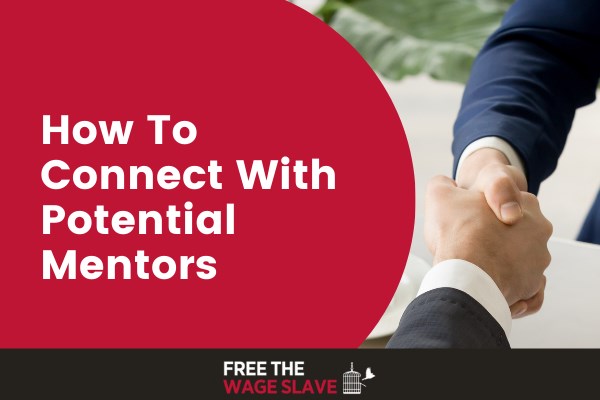 You could connect with potential mentors by:
Working For Them:

Freelancing: Via Upwork or other freelancing platforms
Consulting: Offer them guidance for their companies (e.g. teach them about social media)
Social Influence: Join LinkedIn Groups in your niche and become active in the conversations so they start to notice you.
Leave thoughtful comments on your mentors blog posts or social posts:

"Amazing post" and other generic lazy responses won't cut it. Make an effort.
Talk about how it made you feel – use descriptive language, share openly to connect emotionally with them
Tell them the new insight you got that you're going to apply
Apply their advice and tell them the results you got
Become Their Client: Hire them as your coach or consultant or buy their products to get access to them.
The priority is to show up on their radar. Once they know who you are, focus on adding value to their life.

Whatever you do, play the long game. Give, give, give, give, give and maybe then ask. Most of the time they'll ask you if you're good enough.

You can get free mentors for life, but there's always something you have to give in return.
What To Do After You Get Your Mentor
I hope this guide has helped you figure out how to get free mentors for life.

Once your mentor has agreed to work with you, there's a very specific process you can follow to guarantee you surpass your mentor. I wrote about this here:

How To Surpass Even The Best Mentors