This is more than another The E-Myth Revisited Summary.

There's a lot of great stuff in the book, but instead of covering everything we've focused on the 7 biggest "A ha" moments you can use to accelerate your growth.

There's a reason The E-Myth keeps cropping up on "Best business books" lists despite it being published back in 1986.
This book is in my 15 Must Read Business Books Every Entrepreneur Should Read and the lessons are as timeless today as they've ever been, so in today's post I'll give you the best of The E-Myth distilled.
#1 – It Isn't the Commodity, It's the Delivery
Good service is the one thing every single one of your customers want.

No matter what business you're in or how much competition you're up against, focus on overdelivering on how to provide service and you'll always have a steady stream of customers beating a path to your door.
#2 – You are 3 Different People in One
As a business owner, you wear 3 hats: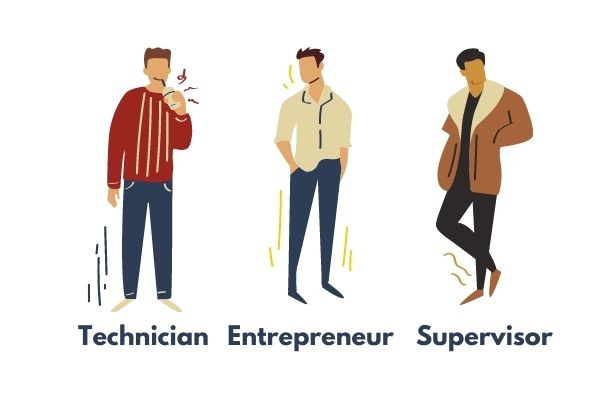 The Entrepreneur: Has the vision for the business
The Technician: Applies a variety of skills to build the business
The Supervisor: Guarantees everything is running smoothly
In addition, each persona focuses on a different point in time:
The Entrepreneur: Focuses on the future – Where are we going?
The Technician: Focuses on the present – What needs to be done today?
The Supervisor: Focuses on the past – What worked in the past? How do I keep it happening to ensure ongoing success?
To be successful as a business owner, its vital to find balance among your three roles. If you've come from a traditional 9 to 5 you probably only wore a single hat – the technician or the supervisor.

Many new entrepreneurs struggle because they go from being a technician for their employers to 100% specialist in their own businesses. That means they end up "doing the work" instead of being focused on growing the business and hiring/managing their teams.

Instead of struggling with the 3 roles, split your time to give equal energy to each role or hire others to do those jobs for you.

Understanding this crucial lesson from the start will help you end grow your company faster than doing everything yourself or neglecting the other vital roles.
#3 – Marketing is About What Your Customer Wants
Don't ever make the mistake of thinking your business is about you.

While it is your company, everything else is about your customer. Learn what they desire and then accommodate them better than anyone else can.

Trying to convince your prospects about what you want is a losing strategy. Instead, total focus on their needs ensures you get what you want too.
#4 – Marketing is Guaranteeing Something No One Else Will
Companies spend millions of dollars on advertising, without ever really saying anything.

The chief cause of this, is because their message gets lost in the noise. Everyone is saying the same thing, so the consumer can't hear you.

Instead of parroting the same message as everyone else, focus on promising something no one else can deliver and you'll cut through the noise with ease.

In any industry, the only way to get noticed is to risk a little to attract the attention of new clients. Stand out in a way your competitors are afraid to. Just make sure you can deliver on the promise you made.
#5 – Build on Systems, Not Individuals
Building your business around specific people is a mistake.

The most valuable companies run on systems. For example McDonalds creates the same experience and are run the exact same way all over the world. Their restaurants are run by 16 year olds with a few managers, yet each restaurant generates $1.8 million gross profit a year.

That's because the system allows the company to hire and train new employees quickly and the processes ensure the same consistent quality every time (which is why a cheeseburger tastes the same in the U.S as it does in Australia).

Never allow a single employee to hold all the knowledge and become indispensable (including yourself).
#6 – The System Works Hard So You Don't Have To!
Ready for some tough love from the author?
"The biggest problem in a small business isn't any of these, it's YOU – the business owner! You are the biggest problem, you always have been the biggest problem and you always will be the greatest problem!"

Michael Gerber, The E-Myth
Build a "systems business" with processes and workflows that can be duplicated and produce predictable results. Once you start hiring staff, these processes will allow even low skilled workers to get the job done right every time.

I create my workflows and checklists with Process Street because my team and I can access from anywhere in the world. It helps me retain quality control while being location independent.
#7 -Work on the Business, Not IN the Business
Have you heard that phrase before?

If so, this is the book it came from and there's so much wisdom in that short sentence that we couldn't leave this one out of our The E-Myth Revisited Summary.

Here's why…

Again, as a business owner, you're required to wear many hats…at least initially. However, the goal is to be dealing with the vision and direction of business, not the everyday tasks.

In the early stages of your company, you probably had your eye on the strategy and growth like a founder and CEO should. Once you got some customers, you found yourself spending more time servicing them instead of focusing on growing your business. Without realising it, you've begun working in your company more than working on it.

To get back to working on the business, establish workflows, processes and systems for your staff to follow. Then focus on letting the staff run the day-to-day operations while you stay focused on strategy and upgrading processes when needed to optimise performance.
What Was Your Takeaway?
Did you read The E-Myth? Did the 7 lessons in our The E-Myth Revisited Summary give you some insight about how you can better grow your business?

Let me know in the comments below.